Before I left Amazon, I had a conversation with a co-worker that went a little bit like this:
Me: "I really am ready to branch out on my own.  Business school has got to be that catalyst."

Colleague: "I know, I'm really itchy to find out if there's anything else going on out there. It's time for a good startup experience."

Me: "Have you looked?"

Colleague: "Well…"
This conversation came to mind recently because occasionally I have conversations with business school classmates that go like this:
Me: "Starting a company is tricky work."

Classmate: "Your startup sounds so cool! Maybe we can talk about the idea and see if you need any help?"

Me: "Absolutely! I love help! How are you looking to get involved?"

Classmate: "Well right now I'm recruiting for banking/consulting/tech and finals are a pain and next week…"
I don't question the sincerity of my classmates' interest or their desire to help, but it's amazing to see their struggle to break free of the routine.  No matter what lives we lead, at some point we all end up on a treadmill.  Most times, we don't know how or why we got there.  Our lives become interrupt-driven: running in a continual loop, only to pause if someone or something actively takes us out of it.  Combine this behavior with the tendencies of business school students to be risk-averse, and it makes it nearly impossible to take advantage of entrepreneurial opportunities.
In high school and college I basically never got off my treadmill.  But more recently, I feel like I notice routine.  I notice that the same conversations keep happening, the same stressors.  Increasingly, I get an almost claustrophobic feeling and find it important to actively discover why what's filling my days fills my days.
When I do re-evaluate my choices it's scary, and can sometimes (read: usually) end up disorienting me.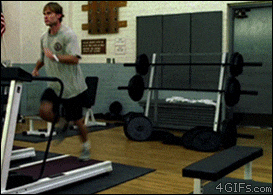 But sometimes (as happened with me about a year and a half ago when I first pulled the trigger on applying to business school) it can result in some really amazing things.  If nothing else, it gives me an excuse to be introspective and procrastinate my coursework.
In fact, I only pulled the trigger on starting a company because of this type of reflection.  Recently, I've been listening to the amazing podcast How I Built This by Guy Raz.  A couple of weeks ago I pulled up his new episode, which featured Jim Koch, the founder of Sam Adams.  As Jim discussed his entrepreneurial journey he had a great insight:
It's the difference in life between things that are scary and things that are dangerous.

I can give you a climbing analogy… One of the things we taught people to do was repel off a cliff.  And really, it's a very scary thing to do, but you're also held by a belay rope and that rope will hold a car.  So walking off the cliff backward is scary but not dangerous, okay. Walking across, you know, a 35 degree angle snowfield on a beautiful late May afternoon with this bright blue sky-it's not scary at all, but it's very dangerous, because the snow is melting, eventually it's going to find a layer of ice, the water will lubricate that and you have an avalanche.  That is dangerous but not scary.

And in my situation, staying at BCG was dangerous but not scary and the danger there, the risk of it, was continuing to do something that didn't make me happy and getting to 65 and looking back and go, "Oh my God, I wasted my life".  That is risk, that is danger.
I took a step out of my routine, took a day to myself, and began thinking, wondering if starting a company was dangerous, or if I was just scared? It didn't take me long to realize it was the latter.  So, I stopped recruiting cold turkey (yikes!), wrapped up studying for midterms early, and got to work.
Geronimo.
– Thad